The calanque at the end of the world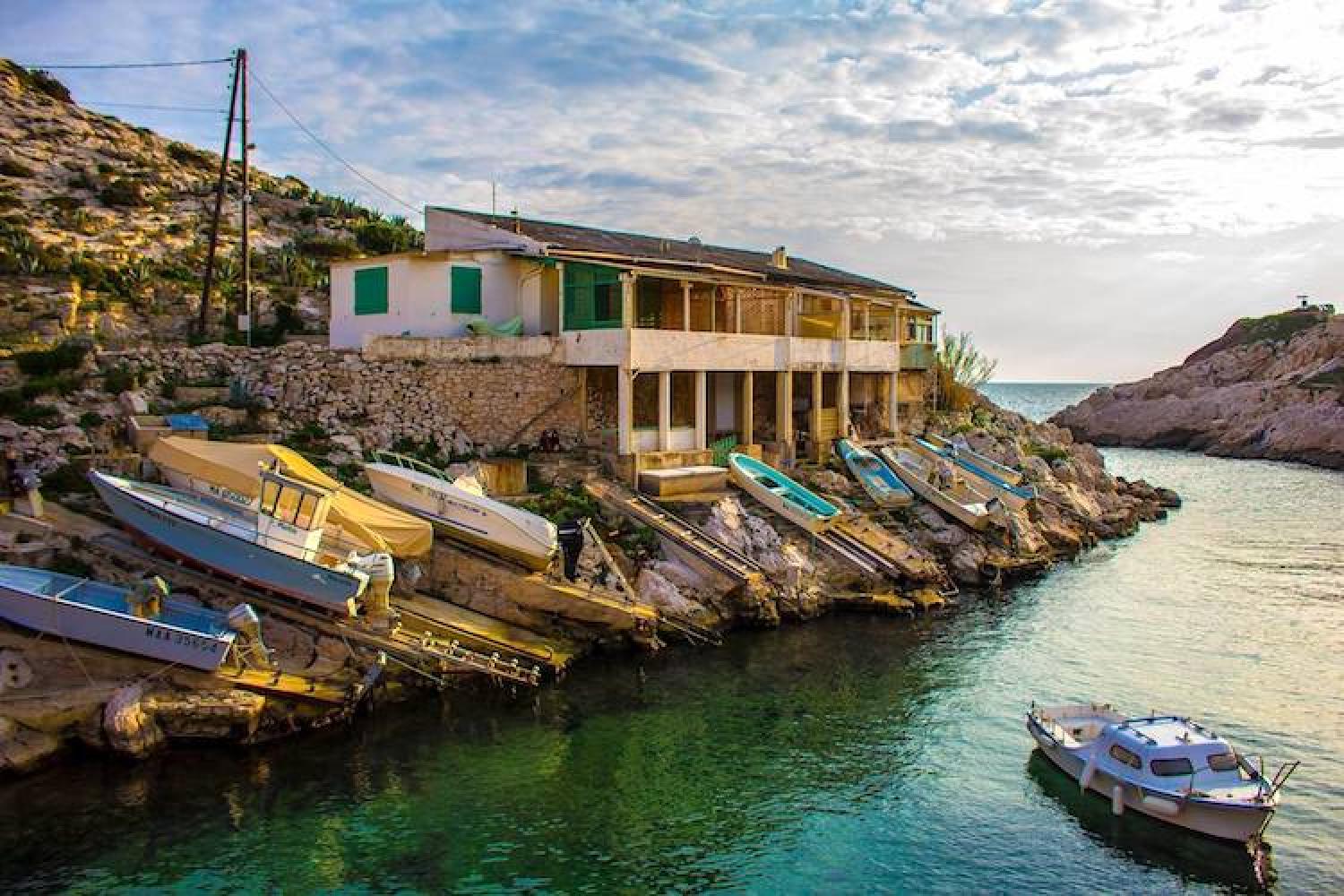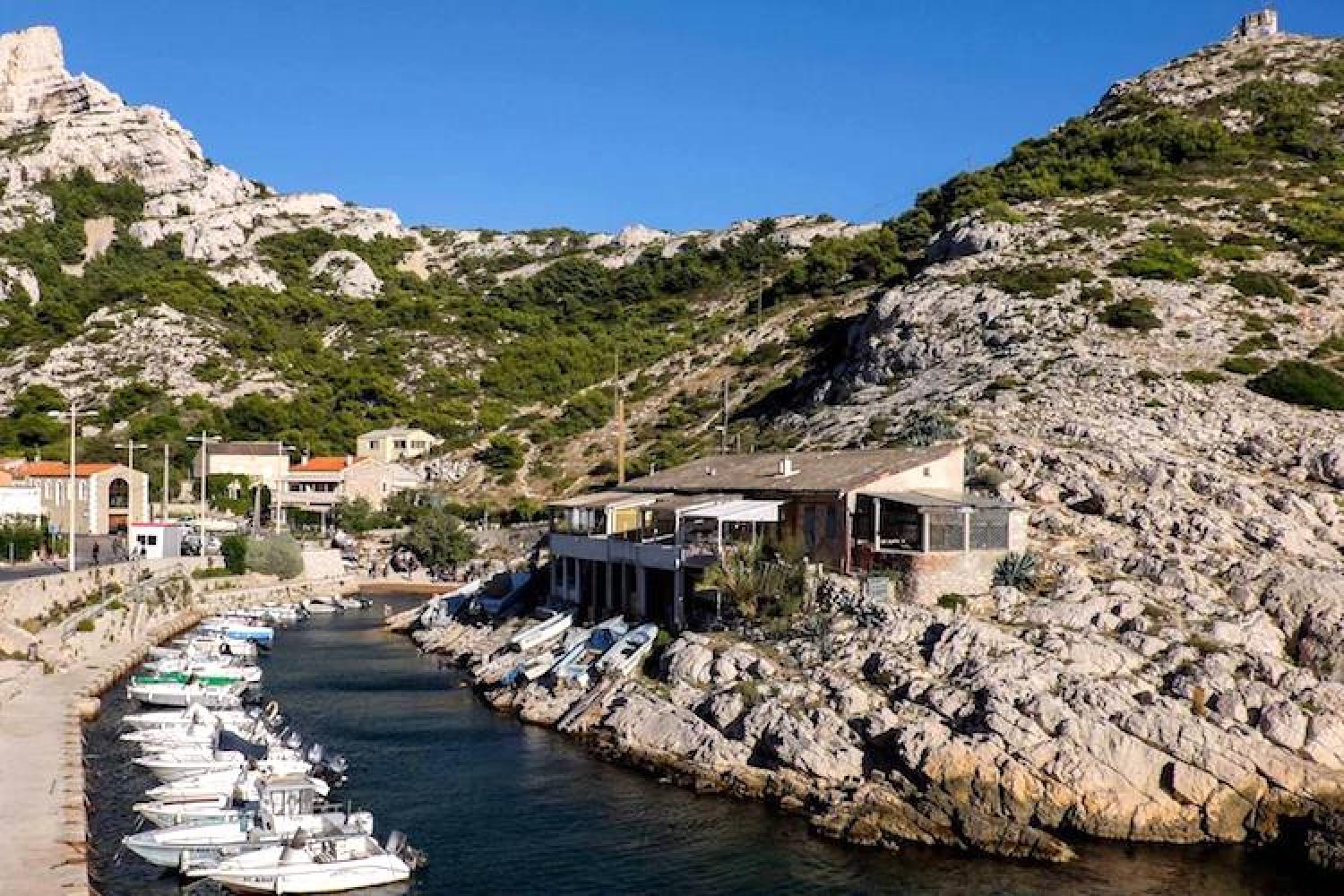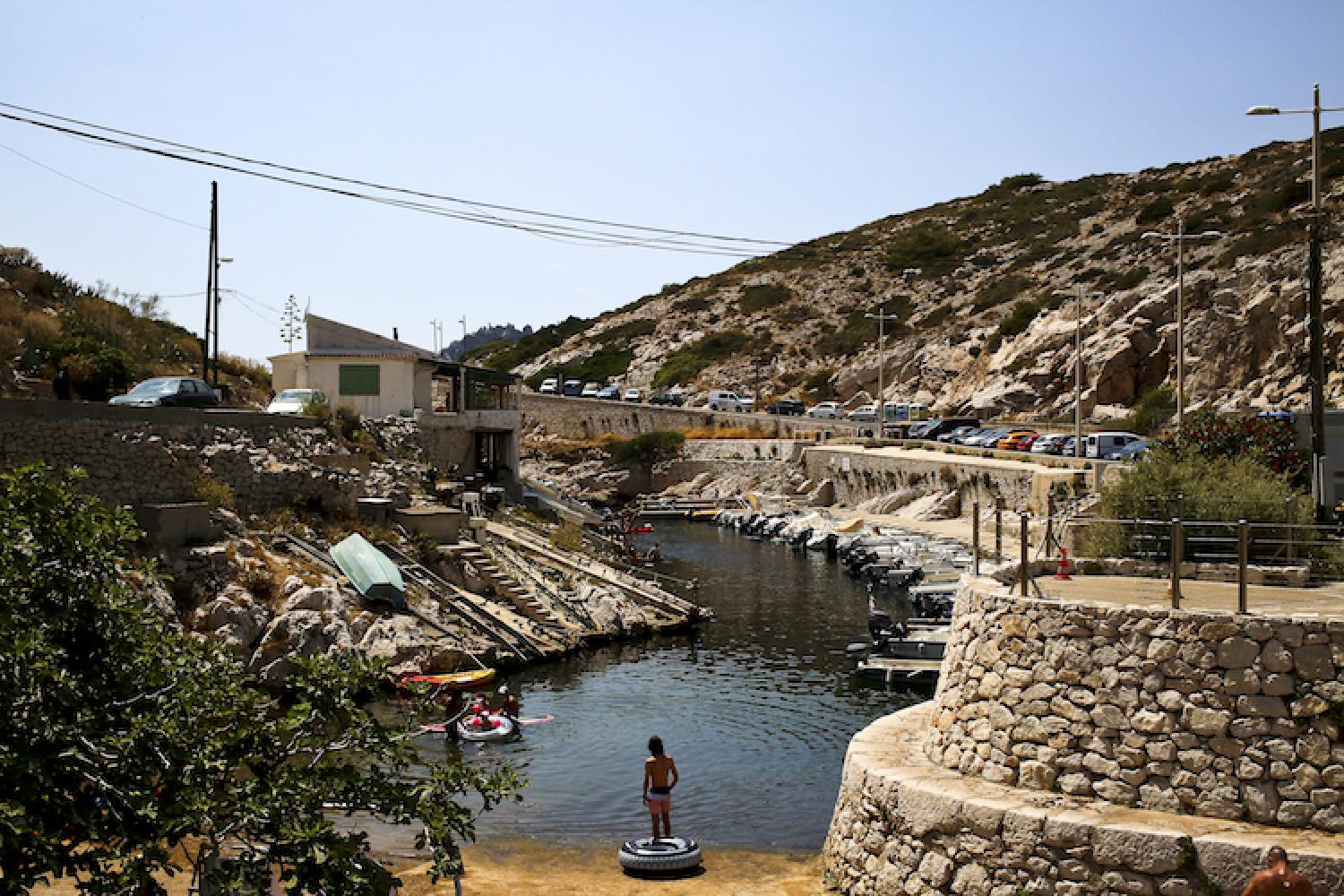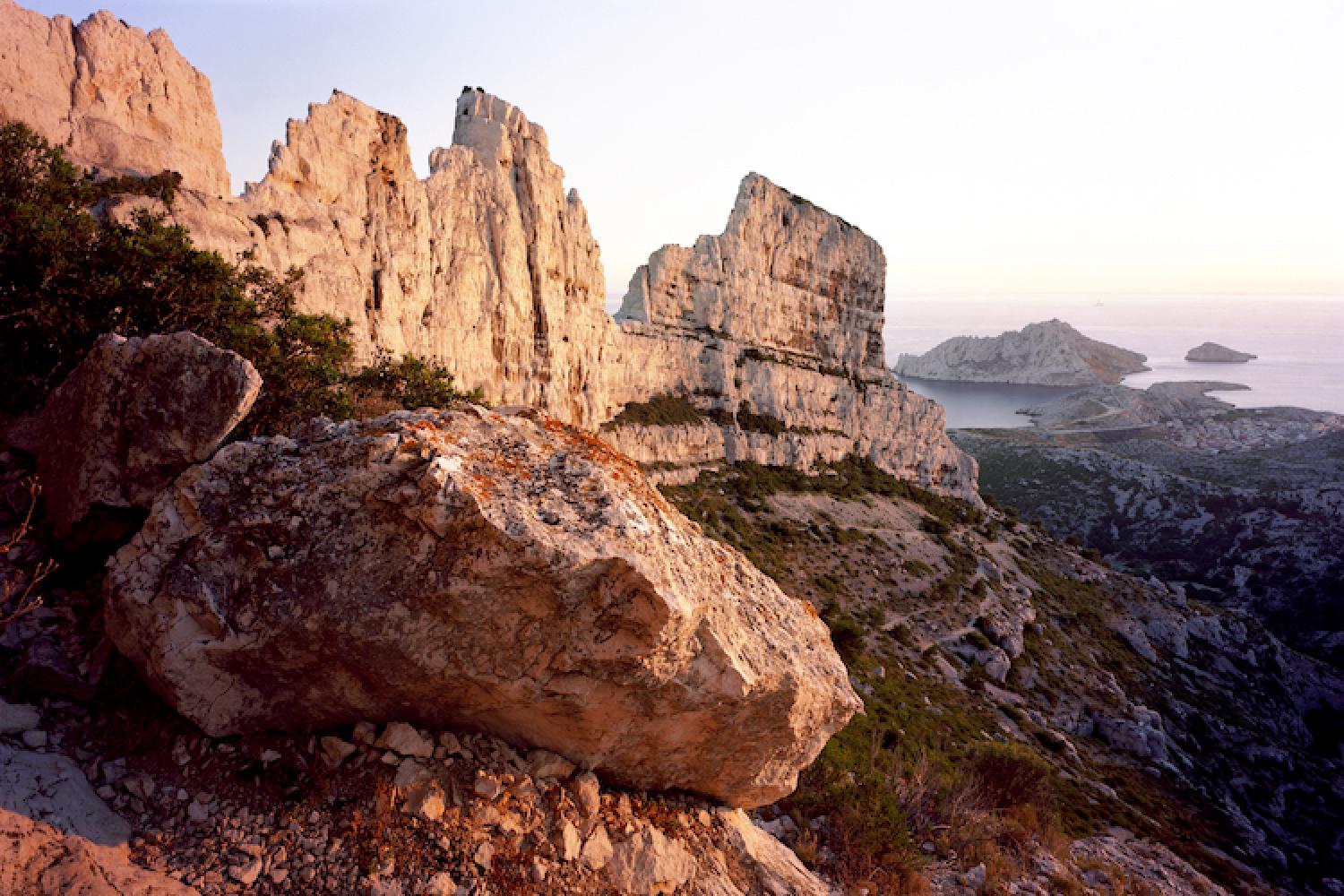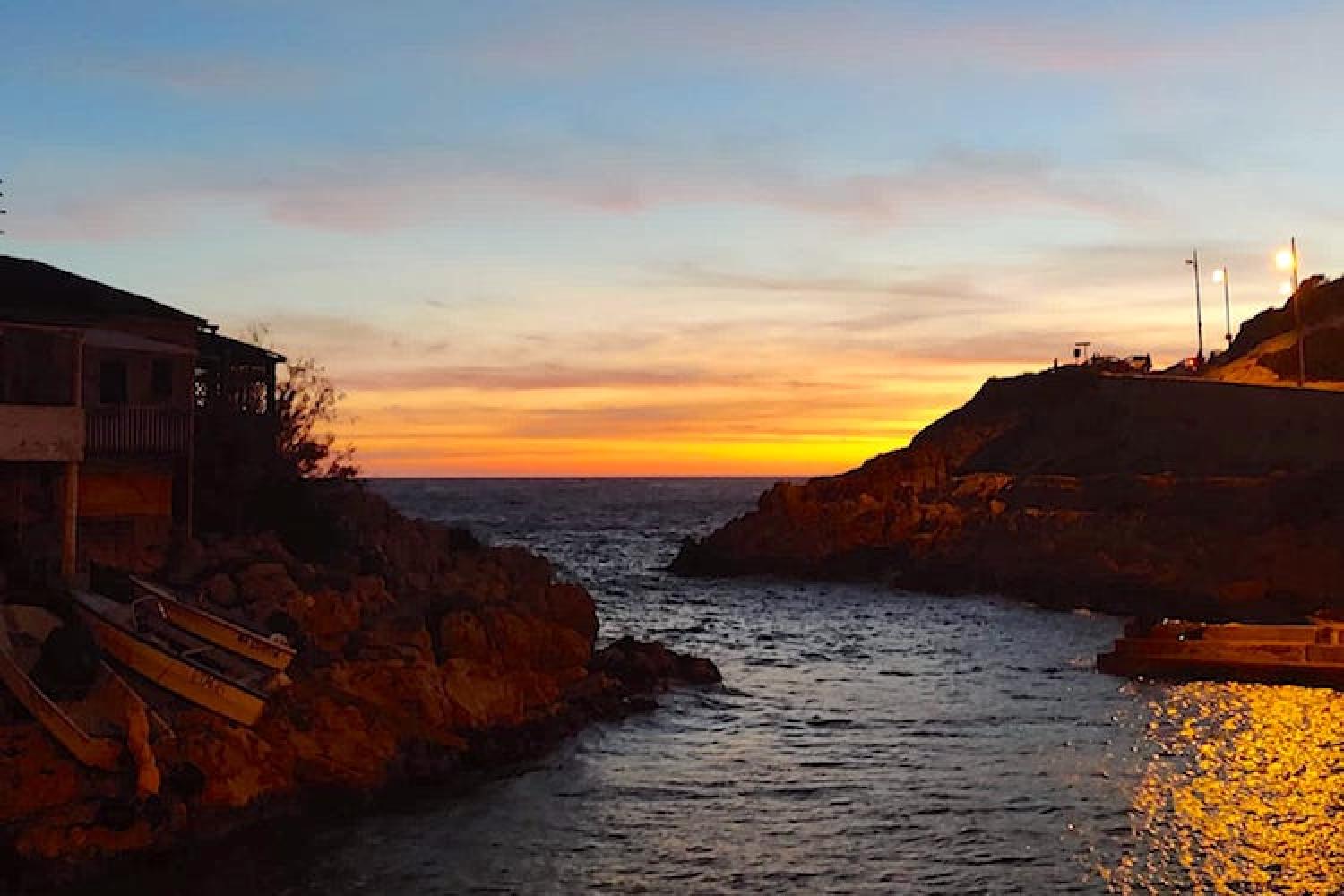 Nestled at the foot of impressive rocky blades, this narrow calanque is home to a small hamlet with a lively restaurant and bar! The end of the coastal road, suddenly interrupted by mountains too steep for urban settlement is the "end of the world" according to Marseille locals.
Fishermen and workers
The name is a combination of the Provençale term calo, which like calanque means small rocky inlet, and the description of its long shape. It was a paradise for fishmermen and sailors for decades. A small fishing port is sheltered here and several cabanons or cabins which disappear quickly before the first hills of Marseilleveyre.
The port was completely transformed in 1849 with the construction of a chemical processing factory The Weiss factory was in operation until 1884. Some of the buildings were later converted for businesses and housing.
A stone cathedral
Overlooking Callelongue, rocky formations called Les Lames and Le pas de la Demi-Lune provide breathtaking viewpoints. The vertical peaks of Le rocher des Goudes at a height of 258 metres was first reached by climbers in 1890. The ridge of La Cordée climbs to the top of Saint-Michel at 321 metres.
This enormous rocky cube houses several caves where traces of human occupation going back to prehistory have been found. For example, the baume Sourne (the Provençale word baume means cave), known as Saint-Michel d'Eau Douce or fresh water where hermits founded a troglodyte chapel in the Middle Ages, of which there is no longer any trace. They had a natural supply of drinking water all year round which was a blessing in this desert!
A prize location for making films
This tiny port has attracted major film makers who have made many films with famous actors here: César by Marcel Pagnol with Raimu and Pierre Fresnay in 1936, L'Affaire du Grand Hôtel with Alibert in 1946, La Table-aux-crevés by Henri Verneuil with Fernandel in 1951, Le Rendez-vous des quais by Paul Carpita in 1955, Le Grand Frère starring Gérard Depardieu in 1982, Chercher le garçon with Sophie Cattani in 2012, En liberté ! by Pierre Salvadori with Adèle Haenel and Pio Marmaï in 2018.
"After a short nap, I walked towards the calanques. I needed the beautiful scenery to clear my head… I headed out from the port of Callelongue, not far from Les Goudes. It's an easy walk, about two hours on the customs trail. There are stunning lookouts over the Riou archipelage and the southern side of the calanques. It felt good to be facing the sea. In the silence. There was nothing to understand, nothing to know. Just a stunning sight in the moment."
Did you know?
The restanques, or terraced hillsides of the calanque are home to an exotic garden, created by a cabin resident. Some species planted in the garden are particularly intrusive and are a threat to the local plant life because they escape their designated areas. As a result, they are under constant surveillance!
Getting here and regulations
Before heading out to visit the Calanques National Park, make sure you are prepared and read here about good conduct and regulations.
Access for motorised vehicles to Callelongue calanque is limited: see here for information about times and dates.
The hamlet is open to visitors all year round. The surrounding hills are also open except when closed due to fire danger.
Several hiking trails pass through Callelongue, including the GR 51-98 through the Mediterranean ranges and the Sentier du Président, named after Antoine Pellicé, former chairman of the Excursionnistes marseillais. Also close to the calanque are the ruins of an underwater cable car and the Callelongue signal station.
Getting here
RTM bus no.19 – direction Madrague de Montredon to the terminus, then 20 – direction Callelongue to the terminus.
In peak season, RTM sea shuttles operate between Les Goudes Vieux-Port via La Pointe Rouge. Callelongue is a 15-minute walk from Les Goudes or take the RTM bus no.20.
The coastal road south of Marseille is often congested, with severe traffic jams at peak hours and on the weekend, particularly during summer, and sometimes as far as La Pointe Rouge. Avoid driving during peak hours and take public transport or cycle when possible.
Localisation
GPS coordinates: 43.212843, 5.354339