The fishermen's calanque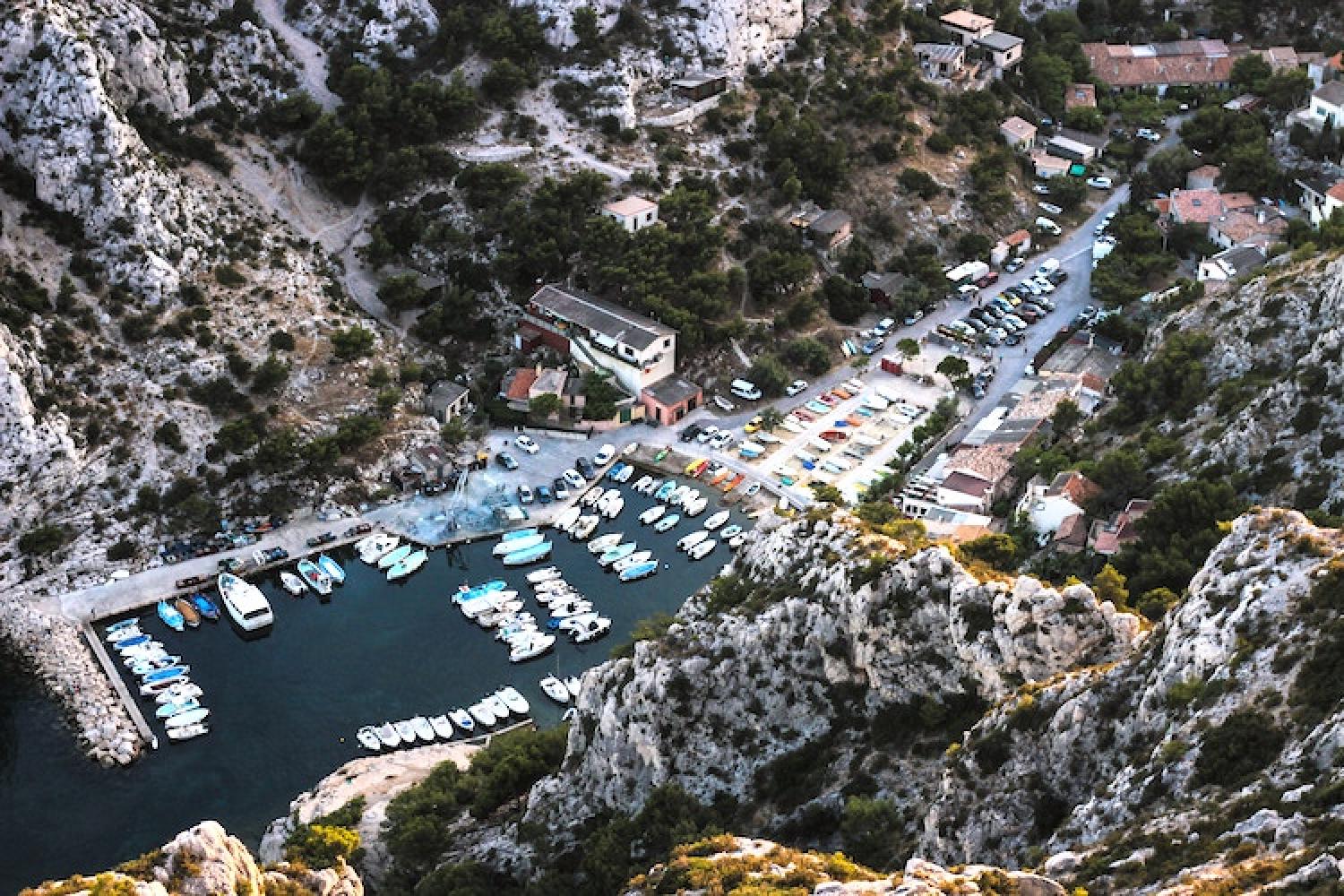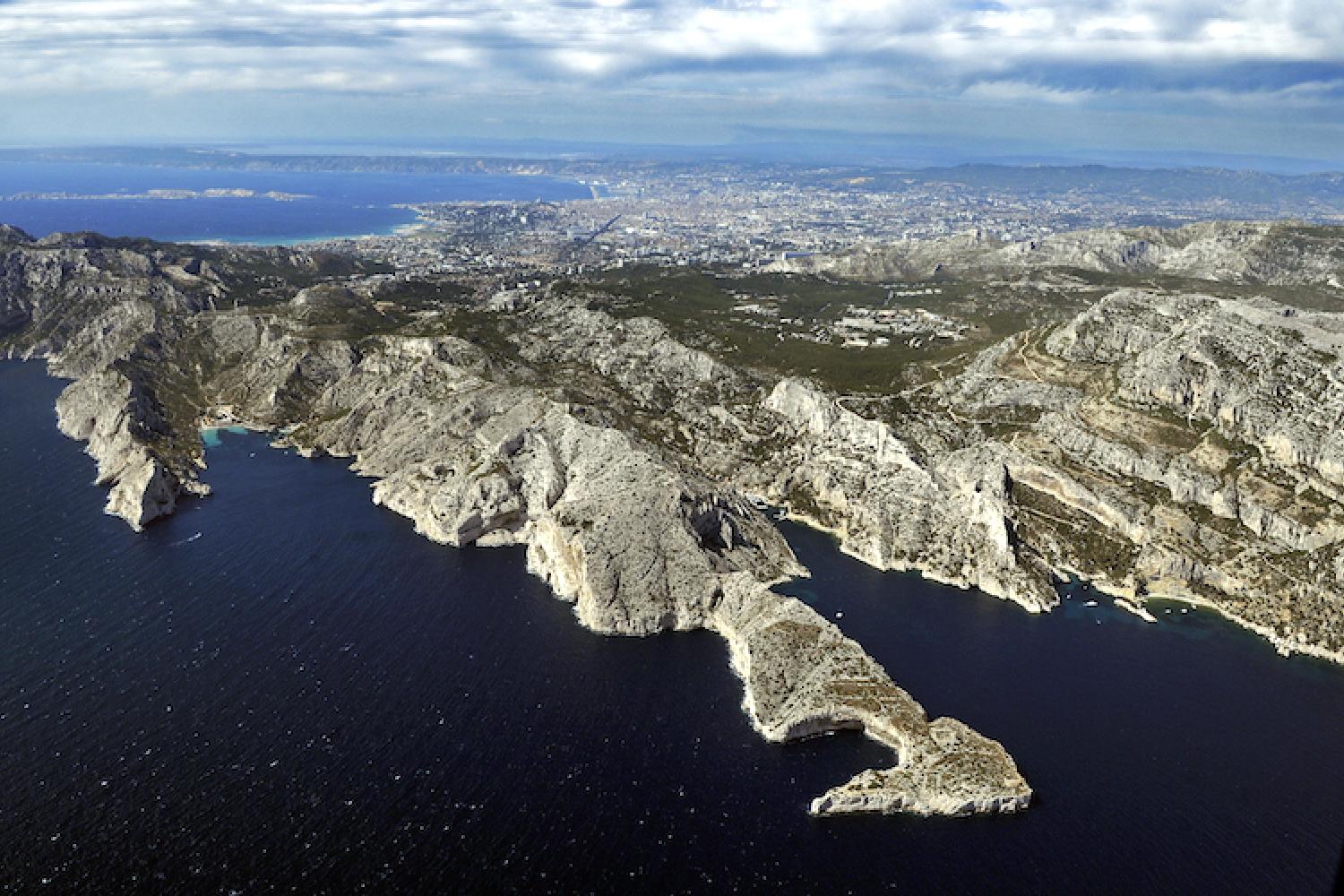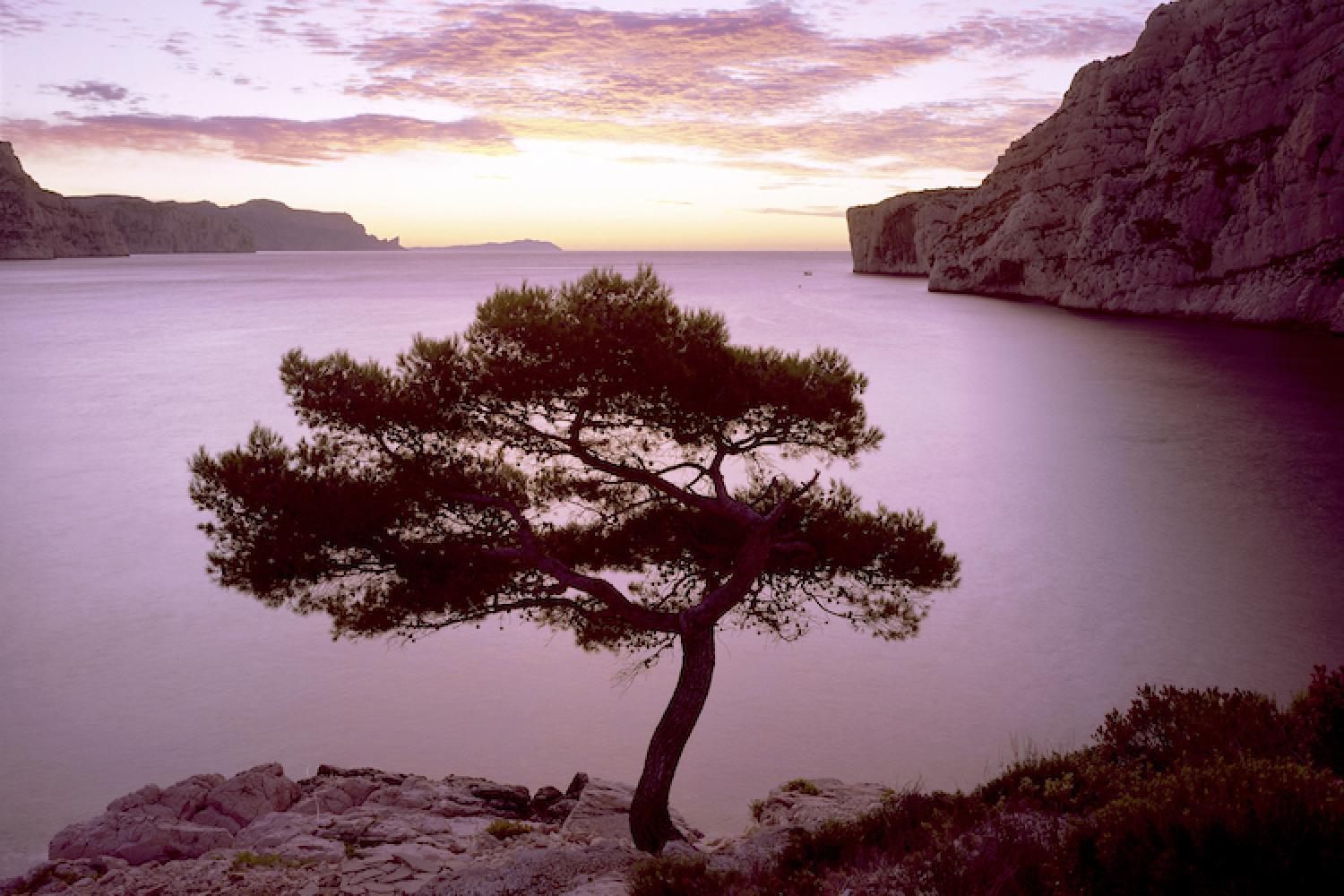 Unlike neighbouring
Sormiou
, Morgiou is inhabited all year round. It is a historical fishing village. Even the King of France came here to harpoon tuna!
Getting here and regulations
Getting here
Bus RTM no.22 – direction Les Baumettes to the terminus, then approximately one-hour walk.
The road is often very congested with severe traffic jams at peak hours and on the weekend, particularly in summer. Take the bus or green transport to get there.
Localisation
GPS coordinates: 43.212957, 5.443350
Map of trails and routes to Morgiou calanque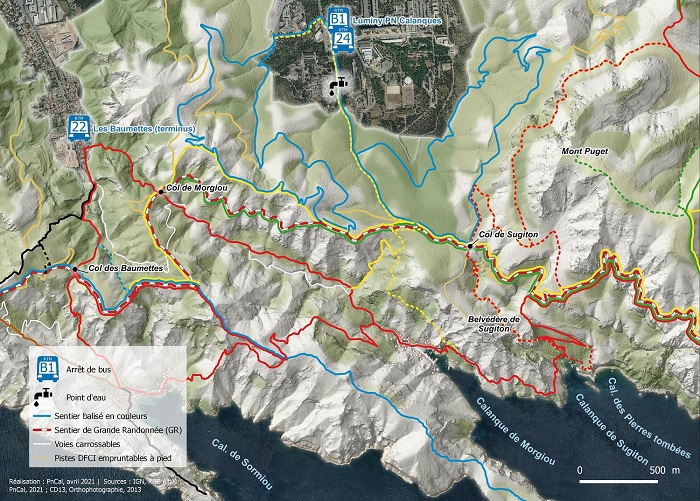 Click to zoom
Before heading out in the Calanques National Park, prepare your visit and read about good conduct and regulations here.
Access to motorised vehicles is limited to Morgiou calanque hamlet. See specific dates and times here.
The hamlet is open to visitors all year round. The surrounding hills are also open except when closed due to fire danger.
An isolated hamlet
Fishermen and several shepherds were the first to settle in Morgiou. They built a handful of cabanons in this calanque, more private with steeper walls than Sormiou, It is a harsh place particularly exposed to north winds: historian Alfred Saurel tells how high mistrals broke typical Marseille crafts known as pointus against the rocks.
The construction of so few homes is explained by the absence of sources and therefore drinking water. Tanks collecting rainwater were empty in summer, and donkey caravans went to collect water supplies from Mazargues. They transported the catch from Morgiou which was sold in the town's markets.
The King of France in Morgiou
On 7 November 1622, Louis XIII went fishing in Morgiou! Marseille officials invited him to thank him for having confirmed the creation of a madrague net three years earlier. With the madrague method, fish are trapped in nets and then harpooned. Dating back to Greek antiquity, the Phoceans imported it themselves.
Historian Antoine de Ruffi recounts this fishing episode: "Each time a fish was held up that had been killed by the King, the shores and sea rang out with congratulations". These days a stairway, known as the Louis XIII stairway, is a reminder of the event. It was specially carved out of the rock so the King could embark the pointu to fish.
Watching over and protecting the coast
The Calanques is a popular location for illegal landings and dealings. To prevent these activities, a coastguard watch takes place in Morgiou, also seen in Sormiou.
The Marseille coastline is also open to military attack, as shown by the walls of the small fort on the Morgiou ridge. Its construction, begun in 1614, did not stop the English in the war against the French in 1793.
From then until now
Like Sormiou, Morgiou was only accessible by cart track used by donkey caravans for many years. It was only in the 50s and 60s that a fire track was built, funded in part by the owners, to reach the two hamlets by car.
A symbol of the historic fishing activity, these days you can dine on fresh fish at the Nautic Bar restaurant that overlooks the small port. True to its history, it is still particularly well organised for fishing.
"Sometimes I would head out to the calanques, to Sormiou, Morgiou, Sugiton, or En-Vau… I would walk for hours, with a pack on my back. I sweated and puffed and panted. That kept me in shape. It soothed my doubts and fears. My anxiety. Their beauty reconciled me with the world. Always. They are so beautiful, the calanques. There is no point saying it. You have to see it for yourself. But you can only get there on foot or by boat. That stops some tourists, which is just as well."
Did you know?
They may all be from Mazargues village, which is now a southern district of Marseille, but three characteristics distinguish between the first inhabitants of Sormiou and Morgiou. The Sormiou locals were recreational fishermen, occupying rented cabins part-time. In Morgiou, they were professional fishermen and lived permanently in their own cabin. This is true today, with around thirty cabins still inhabited in Morgiou calanque.