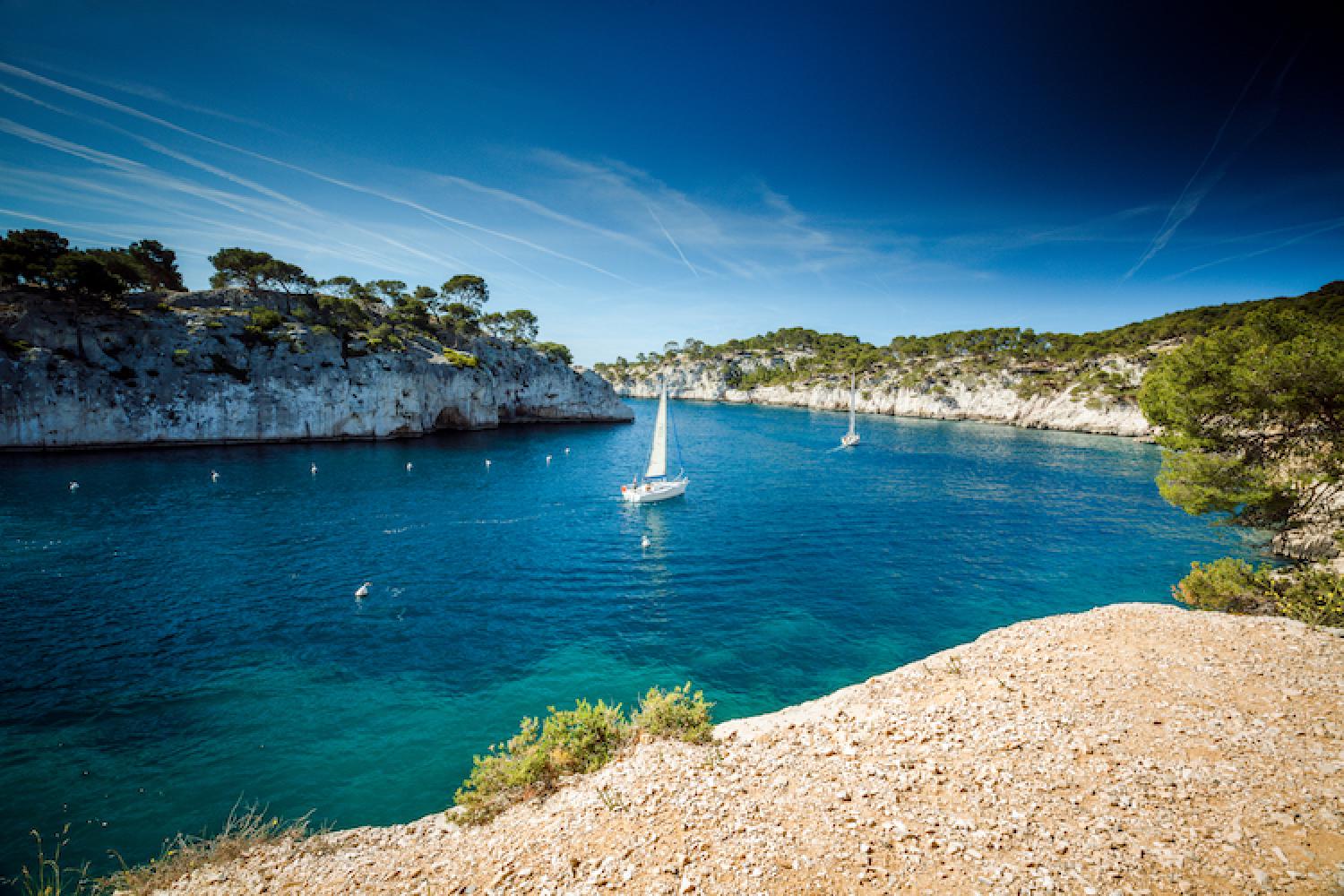 Prepare before heading out:
Check the marine weather forecast. High winds are unpredictable in the Mediterranean. 
Check your craft for safety gear, motors, fuel, levels, etc.
Attach or store items that may fly overboard.
Plan your itinerary with the Shom map (compulsory onboard) and other material available in the media library, particularly the sea regulations map.
Check good conduct guidelines and regulations if you are going kayaking or paddleboarding, diving, boating, or recreational fishing.
Main regulations at sea
The regulations are simple and based on common sense. They ensure that everyone can enjoy this majestic site. The following activities are banned at sea at all times:
navigate, drop anchor and go ashore in unauthorised zones,
attach your craft to yellow buoys,
exceed the speed limit of 5 knots within the regulatory 300 metres,
jet-ski and other motorised towing activities such as water-skiing, parasailing, etc.,
create noise pollution,
dispose of waste,
fly over the national park with drones or model planes.
collect samples of protected species or maritime cultural artifacts;
exceed limits applicable to recreational fishing as shown in the national park fishing brochure;
fish in unauthorised zones,
disturb or feed sea life, except bait for fishing,
use electric or hydraulic devices for recreational fishing,
organise recreational fishing competitions, regardless of the craft used.
Navigating in the sea
Areas where dropping anchor, navigation, and going ashore are unauthorised
To control traffic, preserve fragile natural habitats, preserve the characteristics of the area, and ensure safety for all, navigation and dropping anchors are banned in certain zones of the national park. See the main sea regulations map or the interactive map for sea signage and regulations.
Safety and mooring buoys
Yellow buoys mark borders: 300-metre strip or areas where navigation or dropping anchor is unauthorised. It is strictly forbidden to attach crafts to buoys.
White buoys mark ecological moorings. In Port-Miou, they are reserved for temporary crafts. Divers have priority for all the other white buoys which are positioned and maintained by the municipality of Marseille.
Maritime passenger transport
Maritime passenger transport in the national park is subject to special regulations. Only crafts authorised by the national park have navigation rights. They are identifiable with a flag and orange sticker on their hull.
Hiring a motorboat
To regulate maritime traffic, the national park has established regulations for motorboat hire. Only professional services with national park authorisation can hire their craft.
Boat hire between individuals is possible with limited frequency (less than five times per craft per year). A prior declaration must be made online.
Professional and recreational fishing
No-fishing zones

10% of the Calanques National Park marine territory is classified in seven no-fishing zones (ZNP).  All fishing is permanently and definitively forbidden in these zones for either professional or recreational fishing.
The boundaries of these zones are marked by permanent buoys and signage. Some boundaries are not marked due to constraints in the marine environment. Please consult GPS coordinates to navigate within regulations.
One reinforced protection zone (ZPR) has also been created: only a limited list of professional fishing craft (petit métier) is authorised in this area.
Combatting illegal fishing and promoting responsible recreational fishing
To combat illegal fishing and promote responsible recreational fishing, the Calanques National Park has established regulations applicable to all types of recreational fishing: onboard, shore, and underwater. They set the maximum limit, in weight or number, for recreational fishing. Exceeding these limits cannot be considered to be for consumption exclusively by the fisherman and his family. The regulations also ban underwater hunting of certain sensitive species.
Cultural maritime artifacts
The public maritime area of the Calanque National Park (within 12 nautical miles of the coastline) is subject to strict regulations for the collection of maritime cultural artifacts, as provided for in the French heritage law:
Articles L532-1 and L532-3: individuals who discover a maritime cultural artifact (a deposit, shipwreck, vestige, or more generally, any item of prehistoric, archaeological of historical value is required to leave it in its place and not damage it. They must make a declaration within 48 hours of the discovery or arrival in the first port to the local authorities concerned (Direction départementales des territoires et de la mer or le Service des affaires maritimes).
Article L532-2: any maritime cultural artifact for which the owner has not been traced within three years of the publication of the discovery in the Journal Officiel belongs to the State.
Request for authorisation
To protect the Calanques environment and characteristics, certain maritime activities require prior authorisation from the national park.
See the page about requesting authorisation
 More information about regulations in the Mediterranean
Préfecture Maritime de la Méditerranée
Direction départementale des territoires et de la mer